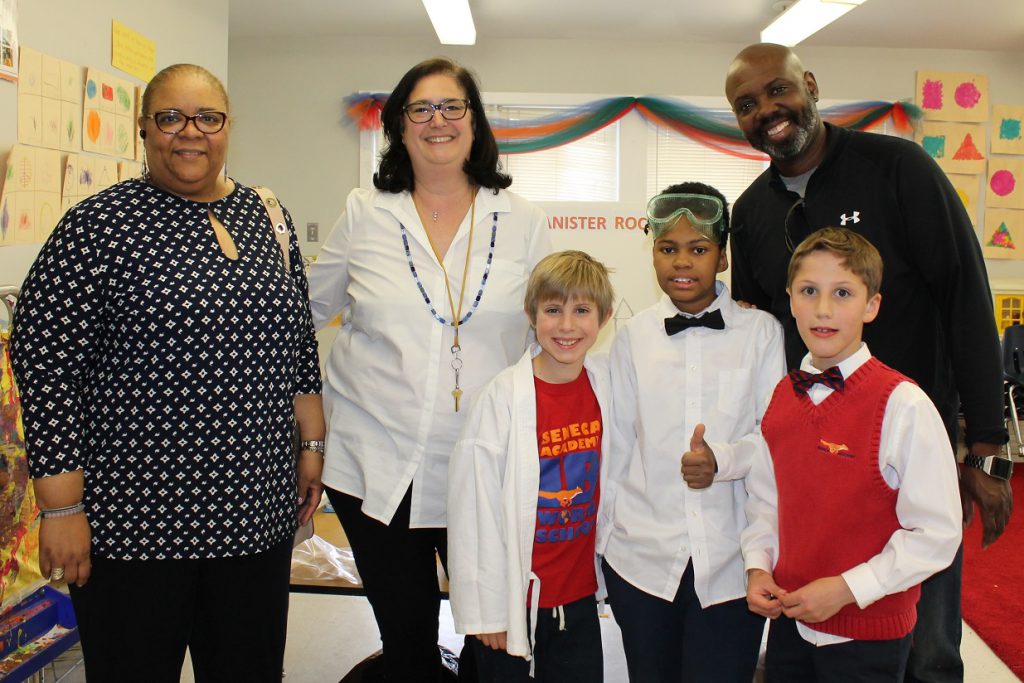 The Seneca Academy Board of Trustees is comprised of between five and fifteen individuals who provide oversight and strategic thinking for the school. Board members serve an initial one-year term. If reelected, Trustees then serve a three-year term. Trustees can be reelected two more times for a total of ten years.
Rhonda L. Anderson-Speight has served on the Seneca Academy Board since July 2014. She is a Senior Business Manager at Axim Global Strategies, LLC in Gaithersburg, MD. She is a native Washingtonian and graduated from Duke Ellington School for the Arts and Howard University with a B.A. as well as a J.D. She is also currently on the Board of the World Dance Theater, Inc. Rhonda enjoys reading, dance, swimming, and relaxing.
Janet de Moor (Secretary) joined the Seneca Academy Board in September 2021. She holds a BS in Human Development and Family Studies from Penn State University and an MPH and PhD from the University of Texas School of Public Health. She is currently the Deputy Associate Director of the Healthcare Delivery Research Program at the National Cancer Institute in Rockville, MD. In her free time, Janet enjoys cooking, hiking, and spending time with family and friends.
John DeMarchi (Treasurer) joined the Seneca Academy Board in July 2015. He is currently Head of School at Evergreen School, a preschool through 3rd grade Montessori school located in Silver Spring, MD. He previously served as Associate Head of School at The Woods Academy in Bethesda, MD. Prior to The Woods, he was a founding teacher and division coordinator at Concordia International School Shanghai. In addition to spending time with his family, John enjoys cycling and the outdoors.
Ryan Landoll joined the Seneca Academy Board in October 2020. He holds a BS in Psychology from the University of North Carolina at Chapel Hill, a MS and PhD in Child Clinical Psychology from the University of Miami, and a MHPE from the Uniformed Services University of the Health Sciences. He is a dual board-certified psychologist who currently serves as an Assistant Dean in Student Affairs at the Uniformed Services University of the Health Sciences. Ryan is an avid distance runner who lives in Germantown, MD with his three children, two of whom are current Seneca Academy students.
Christen Lee joined the Seneca Academy Board in September 2021. She holds a B.S. degree in Business Administration, Human Resources Management from California State University, Sacramento. She is currently the Vice President of Human Resources at Mid-Atlantic Federal Credit Union in Germantown, MD. Christen has three children and spends most of her spare time out and about with them.
Zachary Lipp joined the Seneca Academy Board in August 2018. He holds a B.A. in Criminal Justice from Indiana University, and a J.D. from Hofstra University School of Law.  He is a trial lawyer and partner at Wingfield, Ginsburg & Lipp, P.C., based in the heart of the District, where his firm has been serving the community for over 40 years in Maryland, Virginia, and Washington, D.C.  Zachary lives with his family in the Kentlands and in his free time he enjoys playing golf and traveling.
Ginny McDonald (Trustee Emeritus) has served on the Seneca Academy Board since November 2005. Her son attended Seneca Academy from the year our building opened when he was in kindergarten through his 8th grade year (making him the first on our longevity board!). Ginny has also served the Parents Association in a variety of positions including Chair. She is currently the Tutoring Supervisor for the Treatment and Learning Center. In her free time, Ginny enjoys reading and visiting with friends and family.
John C. McKew (Chair) joined the Seneca Academy Board in September 2021. He earned a B.S. degree in Chemistry and Biochemistry from SUNY Stony Brook and a Ph.D. degree in Chemistry from University of California at Davis. His work passion is to develop novel therapeutics for underserved patient populations, primarily those with rare diseases. He developed this passion while working for almost 30 years in both public and private pharma and biotech companies, as well as the National Institute of Health. He is currently President and Chief Scientific Officer of Lumos Pharma and an adjunct faculty member of Boston University School of Medicine. John has had the opportunity to watch two of his children flourish during their time at Seneca Academy. He currently lives with his family on a small farm outside of Darnestown, MD. He enjoys spending his free time with his family enjoying outdoor activities.
Bobby Pollicino (Vice Chair) joined the Seneca Academy Board in July 2022. Bobby has worked at Bullis School since 2003 and has served as the Head of the Upper School since 2015. All three of Bobby's children attended Seneca Academy before joining him at Bullis School. He earned his BS in Biology from Washington College and his M. Ed. from The College of William and Mary. Bobby enjoys coaching his children in youth sports, spending time with his family at their river house, and practicing Brazilian Jiu Jitsu.
Sue Ann Salimbene (Faculty Representative) joined the Seneca Academy Board in September 2020. In addition, she served as Faculty Representative on the Board from September 2011 to June 2014. Sue Ann has been a preschool teacher at Seneca Academy since 1998. All three of her children attended the preschool when it was The Circle School. She received a B.A. in Business and Economics from Marymount College. Sue Ann currently teaches the extended day 4s and is the Preschool Director. She enjoys spending time with her family (especially her two grandchildren), reading, doing puzzles, and being a lifelong learner.
Jennifer Serenyi (Immediate Past Chair) has served on the Seneca Academy Board since July 2014. She is the mother of three former Seneca Academy students. Jennifer received her BA from Wake Forest University and a Master of Arts in Teaching from Goucher College. Most of her professional career has been spent in education. In her free time she enjoys reading, cooking, travel, and time with family.
Jodi Thurmond (Trustee Emeritus) is the Founding Head of Seneca Academy and has served as a Trustee since the beginning of the School in 1983. She holds a B.A. in History and Political Science and a M.Ed. in Reading. She is currently retired although she is an active wife, daughter, sister, mother, and grandmother (of four adorable grandchildren). Jodi has formerly served as a teacher of students in preschool through college, educational administrator, curriculum developer, and teacher trainer. She is a global citizen as she started kindergarten in Panama and finished high school in Germany. Jodi's hobbies are travel, reading, and visiting grandchildren.
Take a Virtual Tour of Seneca Academy