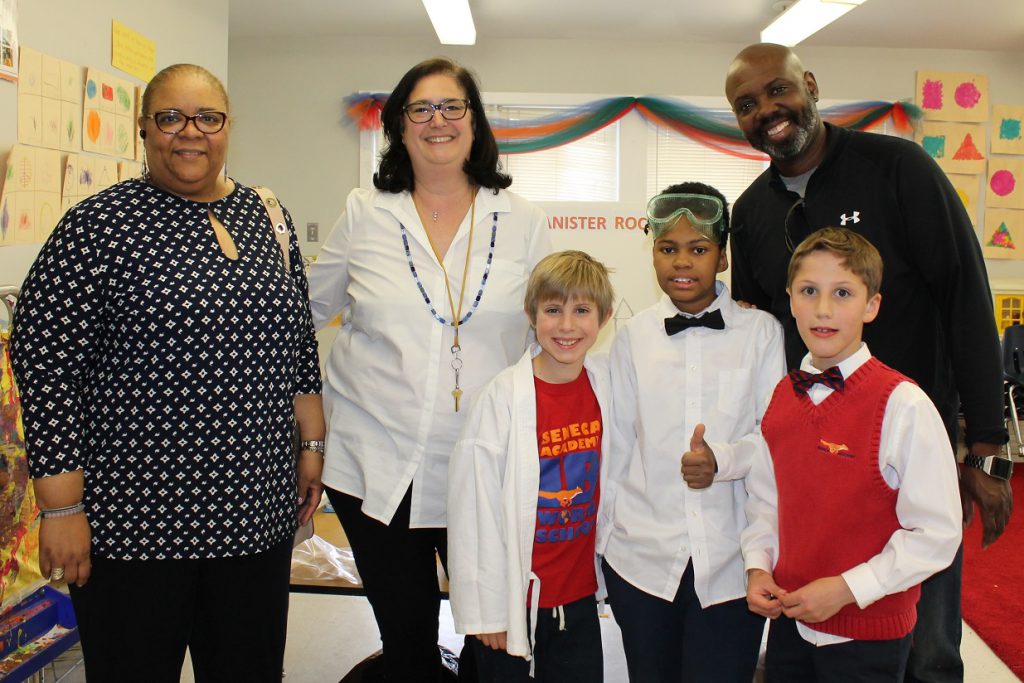 The Seneca Academy Board of Trustees is comprised of between five and fifteen individuals who provide oversight and strategic thinking for the school. Board members serve an initial one-year term. If reelected, Trustees then serve a three-year term. Trustees can be reelected two more times for a total of ten years.
Rhonda L. Anderson-Speight has served on the Seneca Academy Board since July 2014. She is a Senior Business Manager at Axim Global Strategies, LLC in Gaithersburg, MD. She is a native Washingtonian and graduated from Duke Ellington School for the Arts and Howard University with a B.A. as well as a J.D. She is also currently on the Board of the World Dance Theater, Inc. Rhonda enjoys reading, dance, swimming, and relaxing.
Kim Bair joined the Seneca Academy Board in August 2016. She holds a BA in Early Childhood and Elementary Education with a certification in Learning Disabilities. She is currently the Director of Admission and Financial Aid at Washington Episcopal School in Bethesda, MD. Kim was a classroom teacher for 25 years before moving to admissions. She received her certification as an Admission and Enrollment Management Professional (CAEP) through the Association of Independent School Admissions Professionals (AISAP)/Vanderbilt Peabody College. Kim was born and raised in the Washington, DC area. She has three children who are grown. In her free time, she loves to travel, play golf, and spend time with her friends and family. She especially loves her Clemson Tigers!
Kelly Costello has served on the Seneca Academy Board since July 2018. She currently works as the Manager of Accreditation at the Accrediting Bureau of Health Education Schools (ABHES). Prior to working in education, Kelly worked in museums around DC and in Florida. Kelly is a product of DC public schools and a graduate of the International Baccalaureate Diploma Programme at Winter Park High School in Winter Park, Florida. She received her BA in History and Psychology from the University of Miami. In her free time, Kelly enjoys running, reading, and visiting the beach.
John DeMarchi joined the Seneca Academy Board in July 2015. He is currently Head of School at Evergreen School, a preschool through 3rd grade Montessori school located in Silver Spring, MD. He previously served as Associate Head of School at The Woods Academy in Bethesda, MD. Prior to The Woods, he was a founding teacher and division coordinator at Concordia International School Shanghai. In addition to spending time with his family, John enjoys cycling and the outdoors.
Tris Anne DeSalvio joined the Seneca Academy board in September 2019. She is a Bethesda native and attended the Sidwell Friends School. She holds a BA from Trinity College, and an MBA from the College of William and Mary. In her early career, she managed and ran employer-sponsored child development centers for The Holton Arms School and the law firm of Akin Gump Strauss Hauer & Feld. After getting her masters degree, she did management consulting, career development, and human resource work for PricewaterhouseCoopers, The University of Maryland, and DecisionPath Consulting. Tris Anne is currently at home raising her 3 boys. She plays competitive tennis, and enjoys family time at Bethany Beach.
Jeanne Downey-Vanover, PhD, joined the Seneca Academy Board in July 2016. Currently, she serves as the Head of World Languages and Teacher of Spanish in the Upper School at Stone Ridge School of the Sacred Heart in Bethesda, MD. Trained as a linguist, she is infinitely curious about the process of language acquisition and is a strong advocate of the IB approach to developing linguistically proficient global citizens. She is a seasoned world language educator who enjoys music, travel, theater, and time with her family and friends.
Zachary Lipp joined the Seneca Academy Board in August 2018. He holds a B.A. in Criminal Justice from Indiana University, and a J.D. from Hofstra University School of Law.  He is a trial lawyer and partner at Wingfield, Ginsburg & Lipp, P.C., based in the heart of the District, where his firm has been serving the community for over 40 years in Maryland, Virginia, and Washington, D.C.  Zachary lives with his family in the Kentlands and in his free time he enjoys playing golf and traveling.
Ginny McDonald (Trustee Emeritus) has served on the Seneca Academy Board since November 2005. Her son attended Seneca Academy from the year our building opened when he was in kindergarten through his 8th grade year (making him the first on our longevity board!). Ginny has also served the Parent Association in a variety of positions including Chair. She has a background as a CPA, but is currently serving as Senior Search Associate for a search firm that assists small and medium size independent schools find their next Head of School. She is also a tutor for the Treatment and Learning Center. In her free time, Ginny enjoys reading and visiting with friends and family.
Gary McPherson joined the Seneca Academy Board in September 2018. He holds a BS in Psychology and Business Management with a minor in financial planning. Gary is the Sr. Managing Partner of McPherson Financial Partners, LLC. Gary is also involved in several non-profit organizations that assist youth with financial literacy. Prior to his financial services experience, Gary spent several years working with professional athletes at a small Washington, DC sports agency. Gary lives in Gaithersburg, MD with his wife and their two children. Gary enjoys spending time with his family, traveling, and watching sports.
Jim Nagel (Treasurer) joined the Seneca Academy Board in September 2018. He is an Associate General Counsel at Freddie Mac in McLean, VA and is also a CPA. Jim received his BS in Accounting from the University of Illinois and his law degree from George Washington University. In his free time, Jim enjoys traveling with his family and volunteering.
Angela Romano is an experienced educator and administrator from Stone Ridge School of the Sacred Heart who joined the Seneca Academy Board in July 2018. She has spent most of her career at Stone Ridge (24 years and counting) and has served in many capacities including Athletic Director, Varsity Basketball coach, Director of Afterschool programs… but her favorite job continues to be Founder (1997) and Director of the Stone Ridge Summer CampUs program. A proud Tribe graduate from the College of William and Mary, Angie enjoys spending time outdoors with her two daughters and husband.
Shannon Ryan has served on the Seneca Academy Board since July 2015. She is currently the Director of Development at Capitol Hill Day School in Washington, DC. Shannon left a corporate position for independent school fundraising in 2008, and looks forward to sharing that experience with the Seneca Board and community. Shannon is a product of independent schools herself: she graduated from The Bullis School before leaving the east coast for perfect weather and scenic views at the University of Colorado in Boulder. Loves include cooking, skiing, cheering on the Nationals, and exploring all that DC has to offer.
Jennifer Serenyi (Chair) has served on the Seneca Academy Board since July 2014. She is the mother of three former Seneca Academy students. Jennifer received her BA from Wake Forest University and a Master of Arts in Teaching from Goucher College. Most of her professional career has been spent in education. In her free time she enjoys reading, cooking, travel, and time with family.
Carl Tugberk (Immediate Past Chair) has served on the Seneca Academy Board since August 2011. Carl's father was the original architect of Seneca Academy and his mother-in-law was a former teacher. He works as an Assistant General Counsel at the Municipal Securities Rulemaking Board and formerly spent seven years as a Securities attorney at the Securities and Exchange Commission. In his free time Carl is an avid soccer and ice hockey player, as well as a big local sports fan.
Jodi Thurmond (Trustee Emeritus) is the Founding Head of Seneca Academy and has served as a Trustee since the beginning of the School in 1983. She holds a B.A. in History and Political Science and a M.Ed. in Reading. She is currently retired although she is an active wife, daughter, sister, mother, and grandmother (of four adorable grandchildren). Jodi has formerly served as a teacher of students in preschool through college, educational administrator, curriculum developer, and teacher trainer. She is a global citizen as she started kindergarten in Panama and finished high school in Germany. Jodi's hobbies are travel, reading, and visiting grandchildren.
Donna Webb (Faculty Trustee) has served on the Seneca Academy Board since August 2017. This is her thirteenth year as a member of the Seneca Academy faculty, having worked in a variety of roles at the school. Donna has a B.S. in Elementary Education from Shippensburg University. She enjoys reading and visiting family in her free time.
Jenny Whichard joined the Seneca Academy Board in July 2016. She is the Assistant Head of Middle School and the Director of SummerEdge and After School programs at McLean School in Potomac, Maryland. She has been in independent school education for 17 years, which contributed to her interest in Seneca Academy. In addition, Jenny has been a consultant for camps looking to expand and develop academic based programs. In her free time Jenny enjoys being outside with her two daughters, cooking, or reading.
Take a Virtual Tour of Seneca Academy