We are thrilled to have many current and former villagers share why they chose Seneca Academy! Click to expand and read more testimonials.
Students and Alumni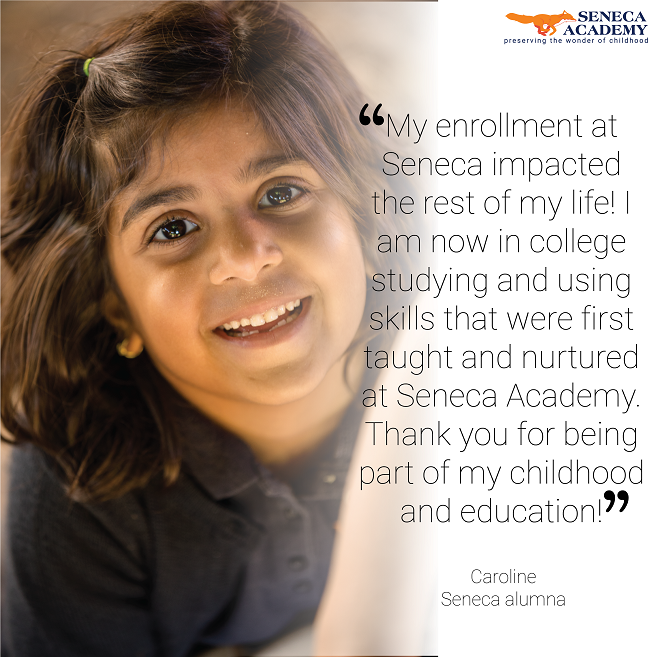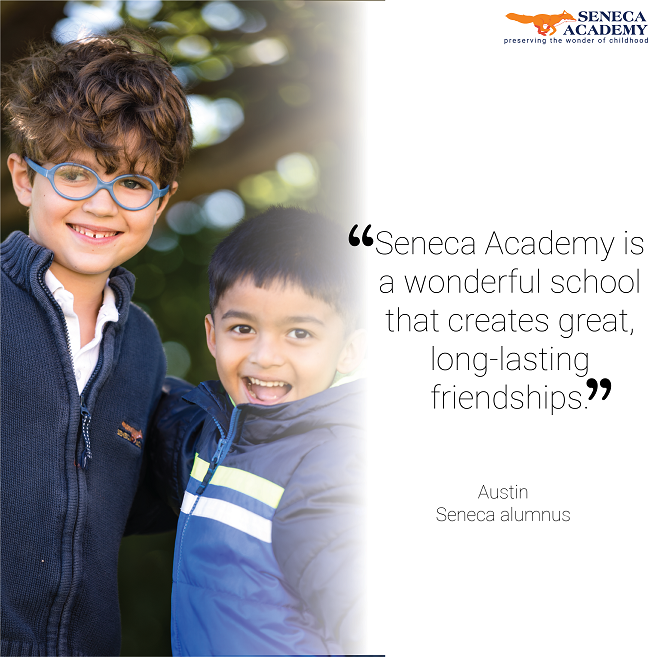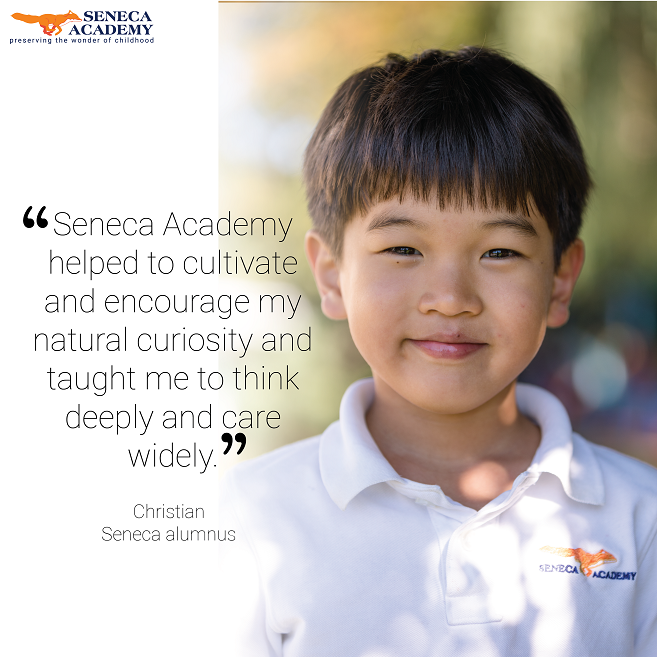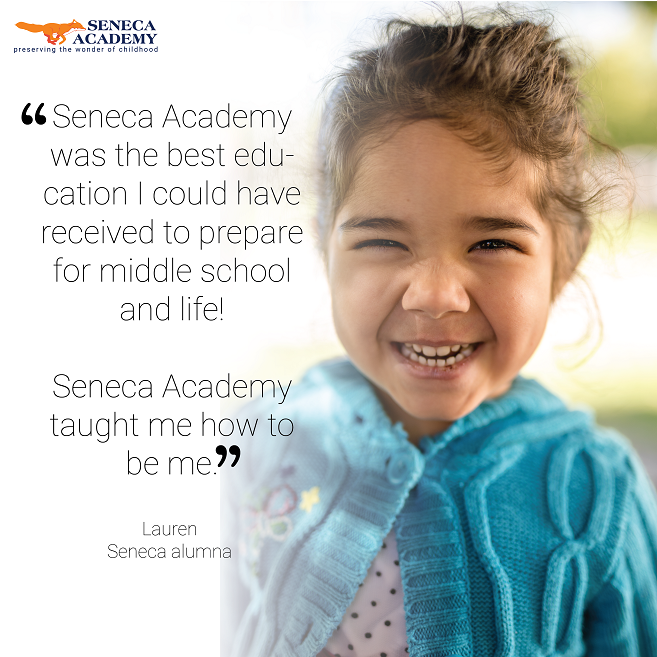 Parents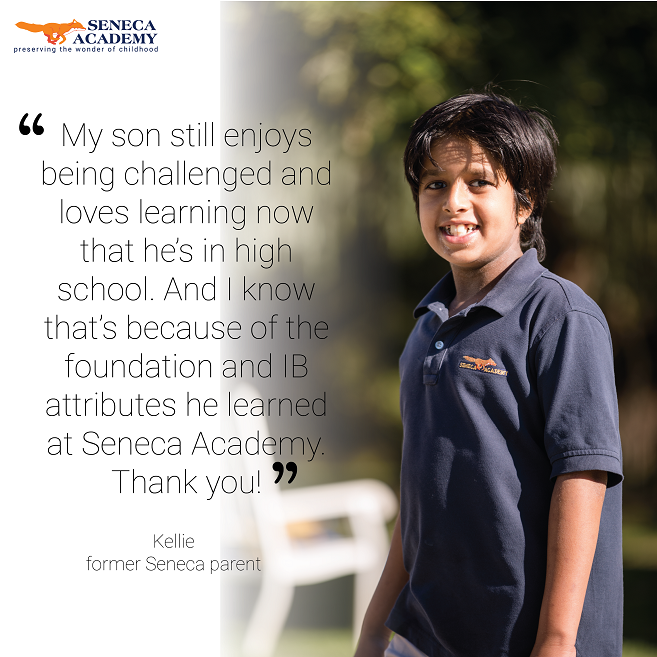 A focus on the whole child
We were looking for a school that focuses on the whole child with an integrated curriculum that applied real-world ideas. Seneca sets each child out as an explorer, engaging in their natural curiosity, and harnesses it. We loved how much outside time they included in their daily schedule. The school really felt like a community, a village, where everyone supports each other, and celebrates each child's uniqueness.
Children thrive and excel
As a child psychologist I have worked with kids, parents, and the educational system for over a decade. If I could design a school from scratch, from a developmental perspective, it would be Seneca Academy. The curriculum and culture at Seneca reflects everything you could want from an evidence-based, research perspective on childhood education. In fact, some of their social emotional curriculum matches with techniques that we look to apply at elite institutions of higher education! This manifests itself in the experience of my own children, who went from disengaged and disinterested in public schools to thriving and excelling at Seneca.
A culture where structure and nurturing coexist
We are so proud of the thinkers our two children have become—inspired by the hands-on approach of the wonderful faculty and the challenging and exciting curriculum. With the small class sizes, teachers can recognize the varied learning styles children have, and teach accordingly. This then leads to the opportunity for the children to demonstrate their mastery in many different ways. One of the many beauties of Seneca Academy is the feeling of family that exists. This creates a culture where structure and nurturing coexist and values such as responsibility and manners can be emphasized. With these tools, and many more, Seneca Academy continues to provide a solid educational foundation and an enthusiastic love of learning. As a parent, there is no better feeling than seeing your children as curious thinkers, innovative problem solvers, and responsible global citizens who are happy and eager to greet each and every school day!
Small class sizes allow for spontaneous learning
The small class sizes are amazing, and allow teachers to tailor the curriculum to meet each child's needs and abilities.  Importantly, they also allow for spontaneous learning, which is, to me, where some of the best teaching moments come from.  My son came home from school a few weeks ago all excited because a red-tailed hawk was perched outside their classroom window.  The class took a break from their lessons and got out the binoculars to observe the hawk, and then went online to learn more about the species, the hawk's habitat, etc.  Had my son been in a classroom with 30 children, this moment never would have happened.
A huge influence on our lives
My daughter attended Seneca from kindergarten through fourth and my son was there from preschool to second grade. Even though my daughter is in college now, the kids from her class are all still close as are a good number of the parents. We hold class reunions almost every year and held a graduation party for the kids from her cohort – at Seneca! Four parents from my daughter's class and I have had a monthly book club for more than seven years running. Seneca Academy was, and is, such a huge influence on our lives still today!
Everything we wanted
With our first step into Seneca Academy, we knew this was our school. The welcoming staff, positive energy, and happy children surround you like a warm hug. At Seneca, everything we wanted for our daughter – focus on the whole child, integrated learning, exposure to different cultures, being part of a caring community, and plenty of fresh air – was realized.
The absolute perfect school
At the end of last year I was walking my son around the Seneca campus because he wanted to visit the pond. I looked over and saw my daughter's class lying under the trees on blankets, writing. Later I asked her why they were out there, she said "My teacher said the fresh air would help us write more creatively." It was at that moment I knew Seneca Academy was the absolute perfect school. My children are thriving, learning, and enjoying the wonder of childhood at Seneca.
A path to success
My daughter has an infectious curiosity and insatiable excitement for learning. At Seneca Academy, her personal growth and talents are celebrated, her growth edges are embraced, and she is equipped with tools and a path to success in her social-emotional and academic growth.
A joy for learning
Seneca Academy has given my children something that I never had when I was young. It has given them a deep love of school and a joy for learning!
Teachers meet the kids where they are
I first visited Seneca Academy with my area MOMS Club and my immediate reaction was that it felt like home. I visited again about six months later and the Director of Admissions called our oldest by name—and that sold it for me! It made me feel that if they could remember the small things that I could trust them with the big things. I felt I could trust them to appropriately care (notice I used the word CARE and not teach—though I learned they are great at that later) for our children, and to us that was invaluable! These are literally the only people, outside of family, that we've trusted our kids with! The teachers meet the kids where they are, and help them learn in the way that they need. We are a small but mighty community!
I can't recommend Seneca highly enough
If you send your child to Seneca, they will learn cursive and a foreign language, learn to think independently and critically, develop lasting friendships by being with a relatively small group of familiar kids every year, and have every adult in the building know exactly who they are and how to bring out the best in them. The way the staff is devoted to every child's success is astounding and heart-warming. I can't recommend Seneca highly enough!
A unique approach to education
My daughter is articulate, poised, passionate about learning and exploring the world around her. She is confident in her leadership, an eloquent communicator, an avid reader, a brilliant writer, and loves math. But the amazing part is, these are all areas that she should be struggling with due to her learning challenges! Seneca Academy has enabled her to unlock her own gifts through their unique approach to education, and has given my girl the opportunity to THRIVE!
Join the Village