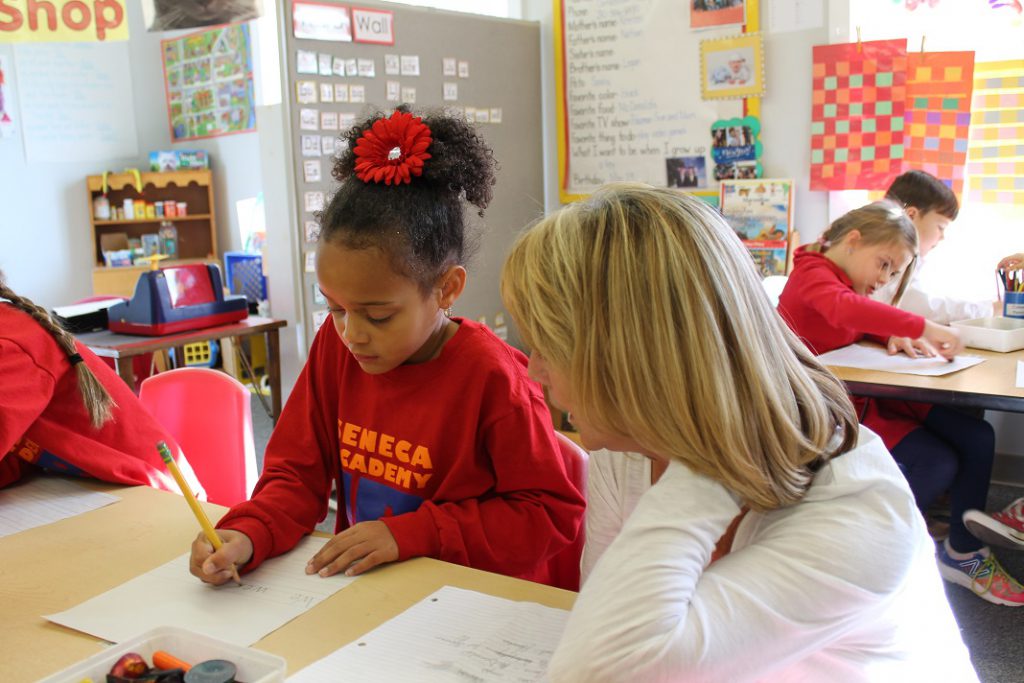 The Seneca Academy language arts curriculum is designed to develop students who are proficient in reading for pleasure and content, who are clear writers of fiction and non-fiction, and are confident communicators through written, oral, visual, and digital media.
The Seneca Academy goals and standards for language arts learning are informed by the Common Core State Standards as well as the IB PYP Language Scope and Sequence. These resources provide a challenging and developmentally appropriate set of literacy skills and abilities to be acquired at each grade level. Seneca Academy teachers implement reading and writing workshop techniques, using a variety of print materials, including classic literature, poetry, magazines, the internet, and essays that connect with units of inquiry being taught. Our writing program is also supported by the 6+1 Traits curriculum.
Features of the Seneca Academy language arts program include:
Reading and writing linked to units of inquiry and all subject areas.
Specific instruction for skills and strategies in reading, writing, viewing and presenting, listening and speaking, and critical thinking.
Integrated spelling, grammar, and handwriting instruction.
Large and small group as well as individual reading activities.
Daily opportunities for reading and writing for a variety of purposes.
Critical thinking skills are practiced through engaging projects and discussion.
Curriculum Overview